Create Your Own Arch House
Click images to view a larger version
Summer house
12ft W x 10ft L x 10ft H
Approx cost of £5000 with insulation and skylight (2008)
DIY Tree House
Built by customers in Scotland. Approximate cost of materials for a Bespoke Arch House similar to this, 12ft L x 10.5ft W x 8ft L, is £3000-4000.
Garden Office
A beautiful cedar wood finished Arch House provides a charming home office.
Why choose an Arch House?
Quality materials
Be the envy of your neighbours with this beautiful piece of architecture
Fully insulated
Guaranteed against 60mph winds.
Low maintenance
Snow and rain slips straight off, giving the Arc a long lifespan
No planning permission required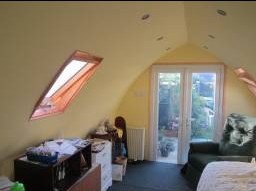 Tensile Arches & Arch Houses
Click images to view a larger version

A great place to hang out.

Example Large Wooden Arch House

Visit our show Arc
Visit our Summer Arch House in Lincoln to appreciate the quality and scope of the Arch House before you buy.

Arrange a visit or get a quote
t: 07860 250 212

4.8m L x 3.3m W (span) x 2.5m H

Decking
47 x 150 RS kiln dried C16 treated carcassing
100mm polystyrene insulation
DPM 18mm hardwood-faced ply WBP

Shell
Tension Arches & 38x90 CLS treated carcassing

External Cladding
Ensobreathe roof membrane 18mm battened breather gap
22 x 150 green treated feather edge board 2 ex 22 x 150

Internal Cladding
Ex 19 x 125 finished 14 x 100 softwood match boarding PTGV1S

Insulation
100mm rockwool

Door & Window
Double glazed UPVC 1200 W x 1900 H French doors in light oak, outward opening
UPVC 1200 W x 900 H window in light opak, right side outward opening

Electrical
LED internal lighting
4 x twin gang sockets
Mains wired smoke alarm
External light (above door - operated by switch inside door)
Circuit protection external IP65 2way RCD consumer unit
Electrical services beyond unit and electrical tests to be carried out by Gorsebank

Site preparation
Customers need to provide a level sub-base at desired location and 16amp 240v supply.

Price
Self assembly £4,700+vat
Assembled £7,640+vat