COVID-19 Pods and Screens
Click images to view a larger version
Visiting pod at Pilgrim Nursing Home
Covid screens floor to ceiling.
The Visiting Pod, a safe place for friends and relatives to visit loved ones in care.
The 'Double Bubble' Covid Arc for pubs.
Customers can eat and drink as a group, away from other people. Fully ventilated and can be heated.
Our Covid screens are bespoke to your business needs. We will install for you or supply flat pack for self assembly.
Covid-19 Solutions
Visiting Pods for Care Homes
Aid Arcs to house employees and to serve as isolation pods
Bespoke Covid screens / shields for businesses
Covid pods for pubs to provide warm, dry seating for customers.
Low maintenance
10 year warranty
Bulk discounts and self assembly TBA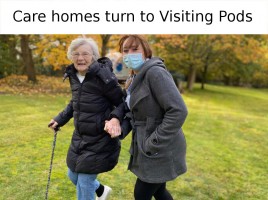 Covid-19 Care Home Visiting Pods
Click images to view a larger version

Covid-19 Visiting Pod for Care Homes

Visiting Pods

10 year warrantyMilitary grade - hard wearingPatented technology - Aluminium core tensile archesEasily scalable - bulk discounts available

Family and friends can now see and talk to their loved ones in total safety under the 'Covid Visiting Pod'. The two parties simply enter the arch from either end and meet on two sides of the hermetically sealed screen in the centre. The transparent ends of the arch are closed from inside or outside to provide natural light and complete protection from the wind and rain.

The Visiting Pod is designed with disabled access, space for a wheelchair and a side table. An extension can be run from the main building to provide a fan heater and lighting on cold dark days.

The Covid Visiting Pod is positioned on a flat surface (car park) without the need for any ground fixings. It can be easily picked up and moved by four people. The exterior has a beautiful Gothic style to it and is built to last for decades. The arch can be easily adapted and repurposed for other uses on the happy day when it is no longer needed to protect loved ones from Covid-19.

Easy to transport, fit 10 flat packed Covid Visting Pods in a transit van.

Spec
Internal size: 8ft wide x 8ft long x 6ft 4" high
Weight: 98kg
Exterior: Military grade 'Forest Green' cover
10 year warranty
Price: £892 inc. vat and delivery. Can be supplied for self assembly by arrangement.
Bulk discounts available.

Click images to view a larger version

Covid Pods for Pubs

Pubs can offer customers warm, dry and safe group dining areas.

10 year warrantyLong term investment in customer seating areas, customers can eat outside even in the winterBulk discounts available

Eat, Drink, Be Merry - Stay Safe

The Covid Pub Pod allows pubs to offer isolated pods for customers to drink and dine in. They are dry, light, fully ventilated and can be easily equipped with heaters for the winter.

1.6m wide x 2.4m long
£1,008 inc. vat