Click images to view a larger version
Small bird hide 3m long. Customer: Sheffield and Rotherham Wildlife Trust.
The Countryside Education Trust with their new Bird Hide
Corporate team building day for Severn Trent Water. The team built a bird hide at one of their reservoirs in Derbyshire.
Bird Hide Features
Enhances the landscapeA stunning focal point
Minimal snow build up in winter
Guaranteed against 60mph winds.
Ideal for community, corporate or team build projects.
Aluminium core for strength and durability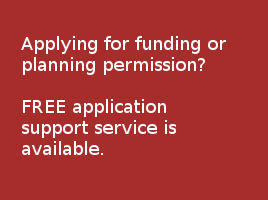 Bird Hide Details
Click images to view a larger version

The Bird Hide at Polesden Lacey National Trust Site, Surrey.

Members of The National Trust
Our bird hides can be found at the following National Trust sites:
Polesden Lacey, Surrey
Washington Old Hall
Croome Park

Bird Hides with a difference, these hides look stunning against the landscape and keep bird watchers hidden and sheltered from the elements. They are easy to move and do not normally require planning permission (we recommend that you always check with local planning).

Made from pressure treated feather edge board, the hides have a life span of over 10 years. The wood will age beautifully over time, but we recommend that it is given a coating of clear timber oil every year two/years.

Each hide comes with 4 viewing ports / windows which can be opened. We recommend opening the viewing ports in extreme weather / on exposed sites.

Our bird hides come flat-packed for self-assembly. You can modify your hide as you wish, creating your own viewing windows once the hide is positioned.


Click images to view a larger version

Optional Extras

Do you need anything adding to your bird hide?

Assembly
Let our team build your arc on-site:
3.6m £500
4.8m £600
6m £700

Extra Side Windows
Full length side windows at your desired height.
3.6m - £120
4.8m - £160
6m - £200

Front wall and personnel door
Close off your arc to make a secure structure. Due to the risk of condensation, you will need to add anti-condensation to your order (see below).
Front timber wall and personnel door with window £465

Waterproof (anti-condensation) membrane
As the timber cladding is natural, a small amount of moisture may permeate into the arc. If you have opted to close off the front of your bird hide with a front wall, you will need to include an anti-condensation membrane:
3.6m membrane £552
4.8m membrane £677
6m membrane £803

Assisted Build Discount
Lend a hand with the build for a discount:
3.6m - 1 day's assistance for -£200 discount
4.8m - 1.5 days assistance for -£300 discount
6m - 2 days assistance for -£400 discount

Towing system
You can disassemble your bird hide and move/store it.
If planning becomes an issue, we can build skids and a towing system into your bird hide.
Skids and easy move towing systems:
3.6m - £443
4.8m - £531
6m - £575
Click images to view a larger version

Bird Hide Warranty and Maintenance

Please read your warranty details and undertake the recommended maintenance.

Please follow the link below, to view our Bird hide warranty and maintenance guide