Click images to view a larger version
Small bird hide 3m long. Customer: Sheffield and Rotherham Wildlife Trust.
The Countryside Education Trust with their new Bird Hide
Corporate team building day for Severn Trent Water. The team built a bird hide at one of their reservoirs in Derbyshire.
Bird Hide Features
Enhances the landscapeA stunning focal point
Minimal snow build up in winter
Guaranteed against 60mph winds.
Ideal for community, corporate or team build projects.
Aluminium core for strength and durability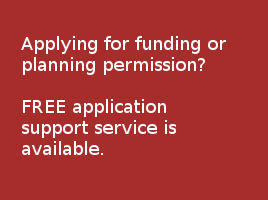 Bird Hide Details
Click images to view a larger version

The Bird Hide at Polesden Lacey National Trust Site, Surrey.

Members of The National Trust
Our bird hides can be found at the following National Trust sites:
Polesden Lacey, Surrey
Washington Old Hall
Croome Park

Bird Hides with a difference, these hides look stunning against the landscape and keep bird watchers hidden and sheltered from the elements. They are easy to move and do not require planning permission.

Made from pressure treated weather board, the hides have a life span of over 10 years. The wood doesn't require staining or painting and will age beautifully to blend in with the landscape.

Each hide comes with 4 viewing ports / windows which can be opened. We recommend opening the viewing ports in extreme weather / on exposed sites.

Our bird hides come flat packed for self assembly. You can modify your hide as you wish, creating your own viewing windows once the hide is positioned.